Dear Partner,
We would like to inform you that in the future Janssen-Cilag Kft. wishes to cooperate with you by way of concluding agreements supplied with electronic signature. By virtue of implementing the Hungarian and EU contract conclusion practices, an agreement signed electronically in the Adobe Sign system is qualified as a valid and efficient agreement made in writing between the parties.
Should you have any question, or should you be unable to approve an agreement signed electronically, or should you perceive any deficiency, you are kindly requested to notify us in an e-mail sent to janssenmedhu@its.jnj.com in the interest of timely correction.
For signing the agreement, please follow the instructions included in the following technical information. For electronic signature Google Chrome or Internet Explorer 9 (or more advance versions of) browsers are necessary.
Technical information:
Please open the e-mail received from Janssen-Cilag Kft., and click on the "Review and sign" link.

Please study the documents, and after reading and approving the same click on the yellow "Tovább/Continue" or "Sign" tag for signing.
On the first page of the contract, you can change the language that suits you: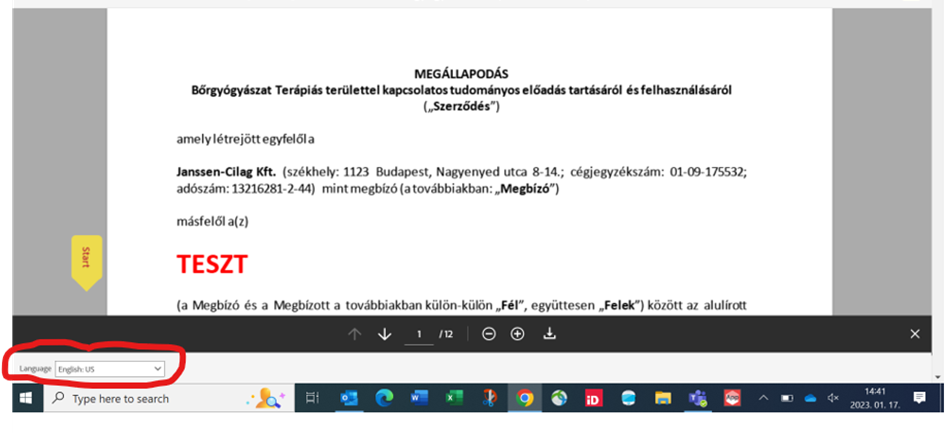 3. For signing the document please click once on the pop-up box. Sorts of signatures can be the following: generated signature or biometric signature.
4. In both cases, firstly please enter your name in the box. This process generates a signature. Should you wish to apply the signature so generated, please continue and click on the "Apply" button.
Should you wish to apply biometric signature where you use the mouse to draw your signature manually, please click on the "Draw" icon and then create your signature with the mouse. If you coincidently spoiled your signature and wish to start again, click on the "Clear" button and start again. If you deem your signature to be proper, please click on the "Apply" button.
After you sign, you have to select the reason for signing: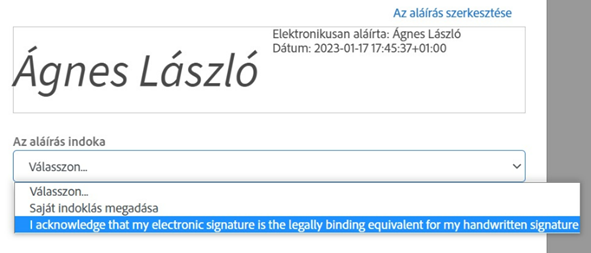 Finally you have to click Adobe agreement disclosure & Sign.

At the end of the above process, the document is signed and see your name as the signatory's name automatically indicated adown at the signatures line and also above on the parties' line.
5. The system may conduct you to the rest of the interfaces to be signed and as soon as you would have signed all of the designated contractual sections, the "Click to sign" button will appear and by clicking on that you could finalise the signature process.
6. We would like to inform you that there are several ways for reviewing the documents signed.
You may immediately click on the "Download your copy" button and save the document on your computer for future references.
We would like to inform you that a copy of the agreement will be sent automatically to both parties, which will be attached to an e-mail and delivered as a signed agreement.
Thank you for your cooperation.
Janssen-Cilag Kft.